"The newest known Saturn SDK, released to developers in Japan in September 1997 (around a year newer than
what Sega of America were giving out
).
Contents:
- SBL Ver.6.21 (PC, IRIX)
- SGL Ver.3.20 (PC, IRIX)
- Sound Tool (Mac)
- Graphics Tool (Windows, Mac)
- Cinepak Library Ver.1.21 (PC, IRIX)
- Online Manual Ver.2.50 (HTML)
- Various command line utilities (PC)
- Audio and video sample data
- Putting the CD in a Saturn runs SBL, SGL, and Cinepak samples
Note that most emulators and Pseudo Saturn don't correctly detect the disc as a Saturn disc as of this release."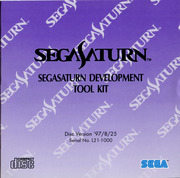 The newest known Saturn SDK, released to developers in Japan in September 1997 (around a year newer than what Sega of America were giving...