"Road Riot 4WD is an arcade game released by Atari Games in 1991.
A Sega Mega Drive port was demonstrated at Winter CES 1992 and Summer CES 1992 by Tengen but cancelled for unknown reasons.
Details of the Mega Drive port are sketchy, however it is likely this would have been built in-house by Tengen (alongside an Atari Lynx version, also cancelled around the same time).
A port of Road Riot 4WD had been released for the Super Nintendo in late 1992, which opted to display the game permanently in split-screen mode and make serious cutbacks to suit the hardware.
The SNES version was developed by Equilibrium for THQ (possibly due to a frosty relationship between Tengen and Nintendo of America) - there is no suggestion the two were involved in this Mega Drive version."
Download:
Road Riot 4WD Source Code 13 Nov 92 : Free Download, Borrow, and Streaming : Internet Archive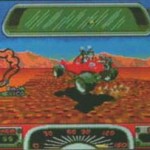 Preserving Details, Screenshots, Videos & more Lost Media for Road Riot 4WD [MD/G - Cancelled] Help us to remember cancelled video games!

www.unseen64.net