Hey guys here is a pc app i made to allow you to change the look of the GDMenu theme, This app contains some themes i've made as well as some other people have made and it also contains the following:
GDEMU SD 1.10
GIMP2 Saves (Templates for making your own theme) - Optional
GDEMU Games List Generator (Created By Me Also) - Optional
This app is something i've been posting on the SegaNet discord and have had quite a few people test and has had quite a few updates adding features that were requested and the usual bug fixes and optimisations.
I want to say a big thank you to Megavolt85 for his help with adding more features to my theme manager app
Demo And Tutorial:
(Made by my friend ateam)
Image: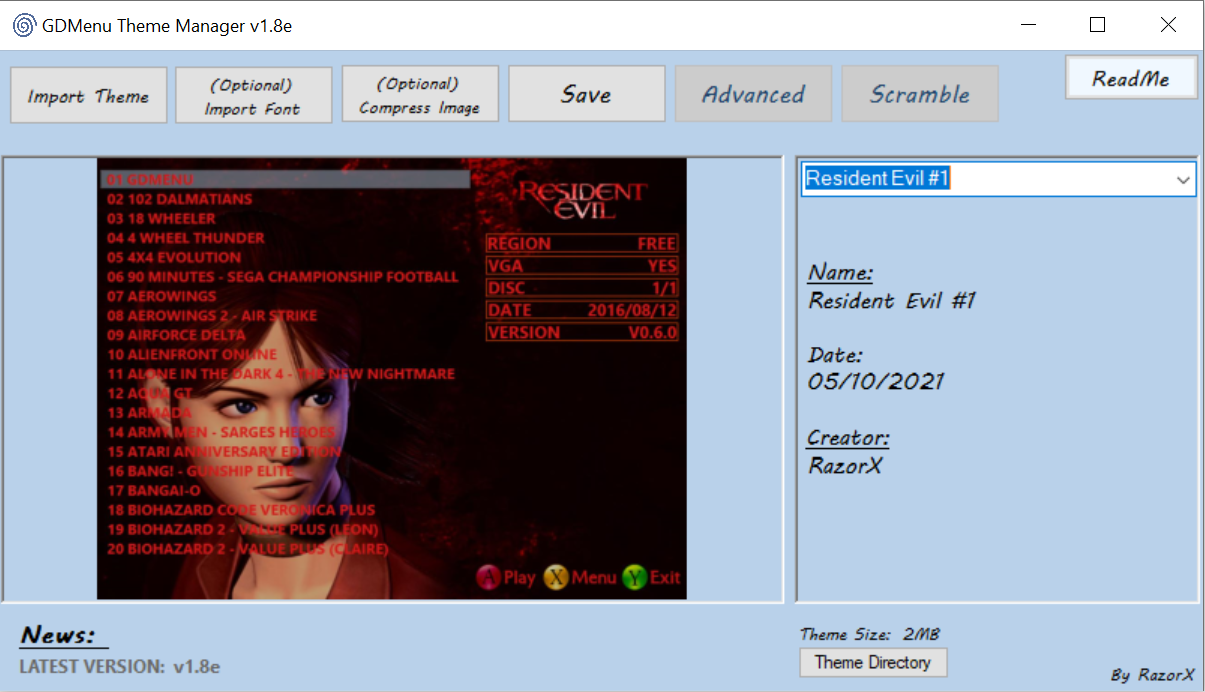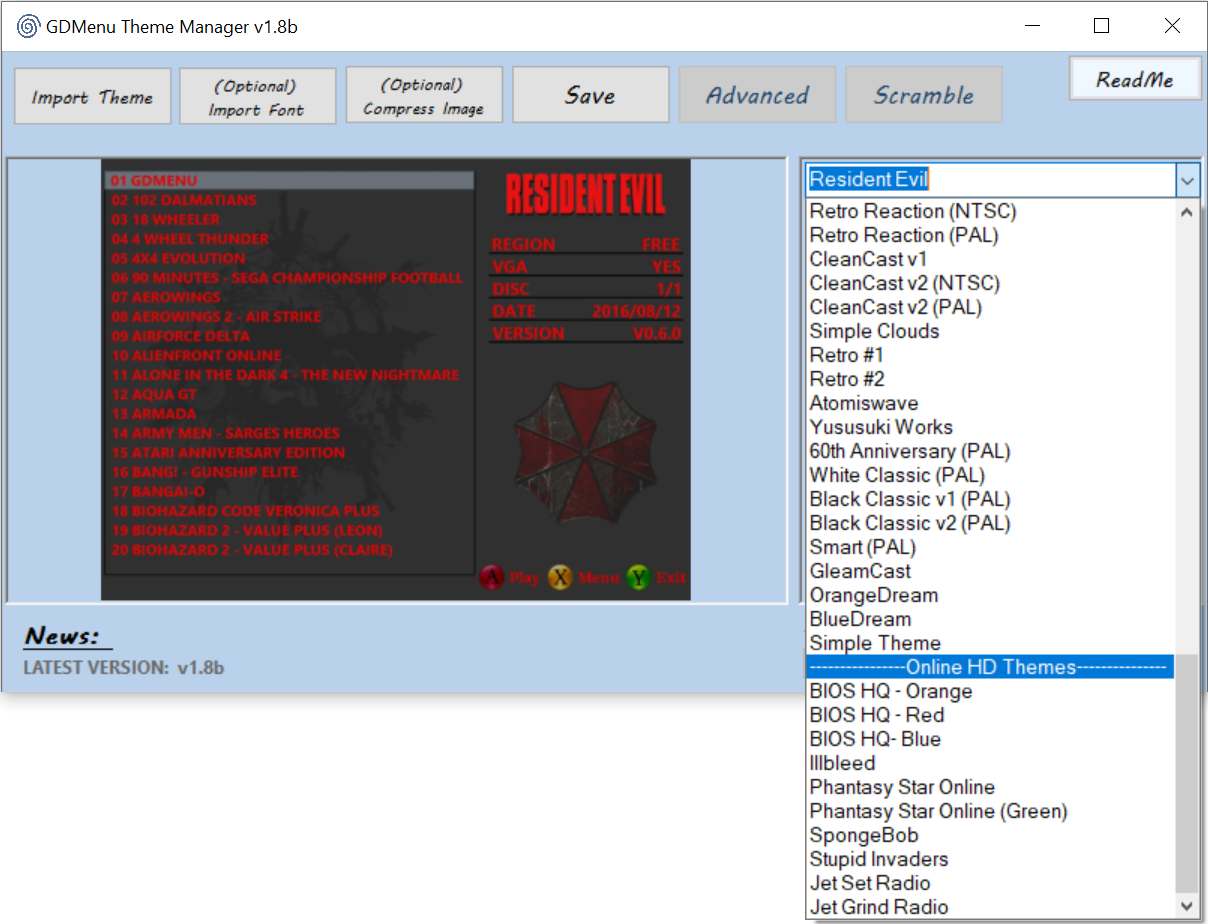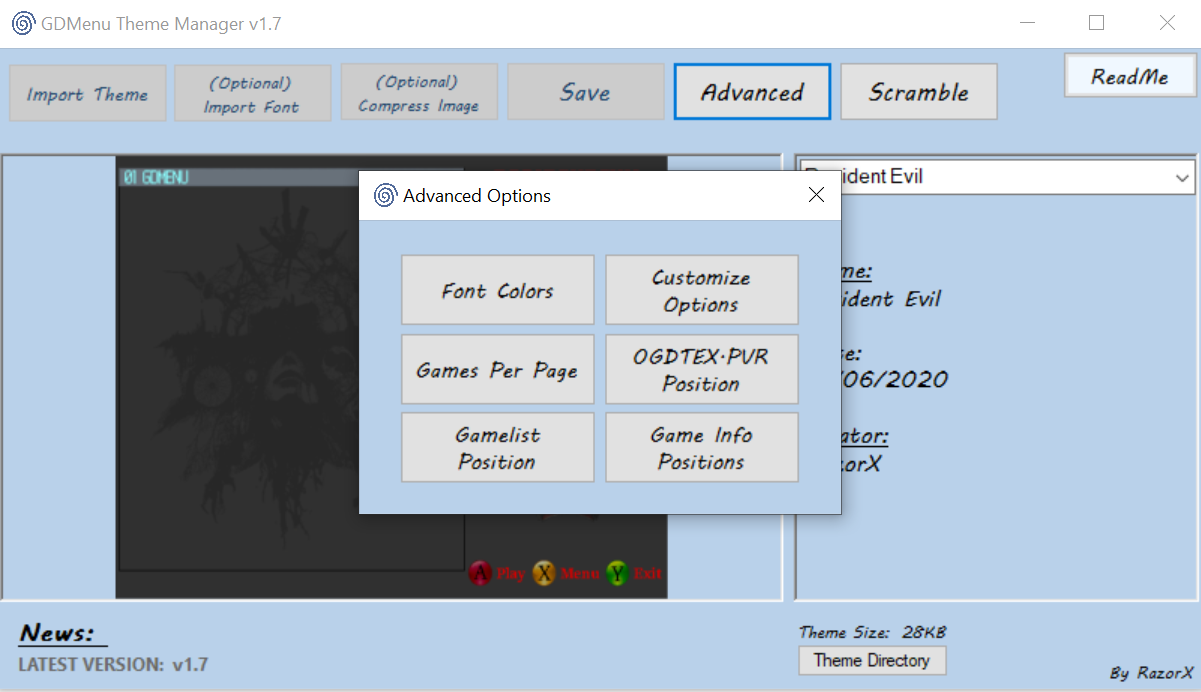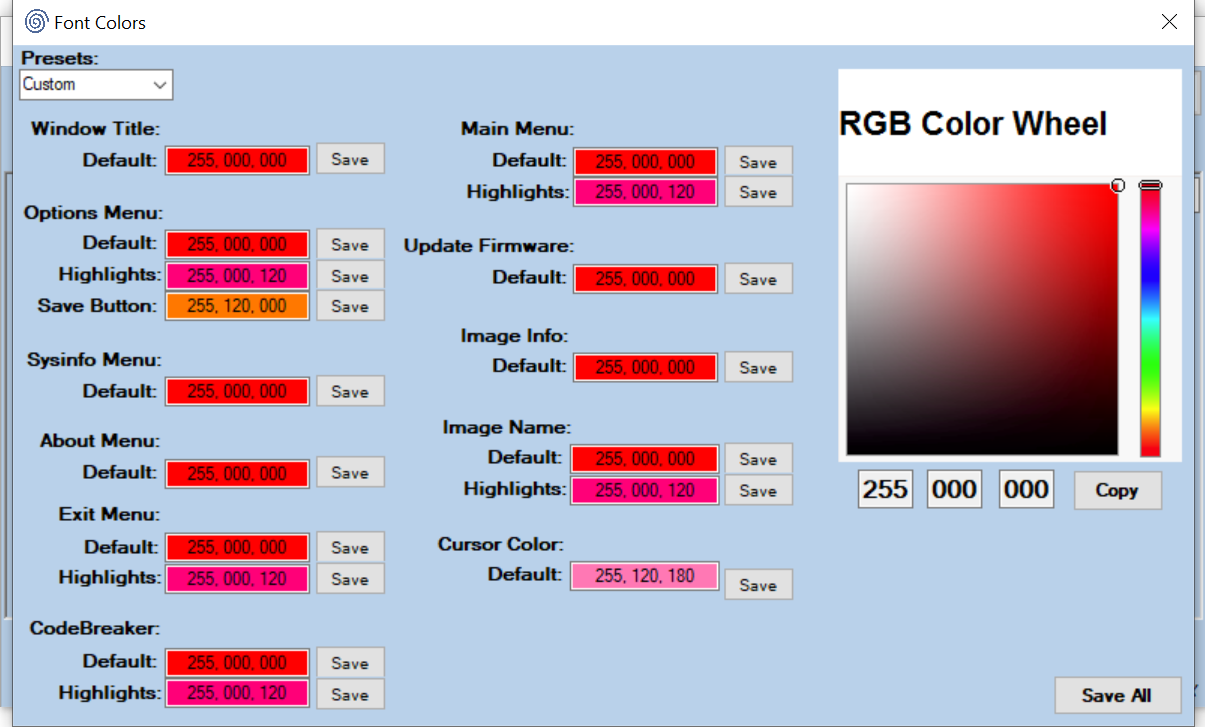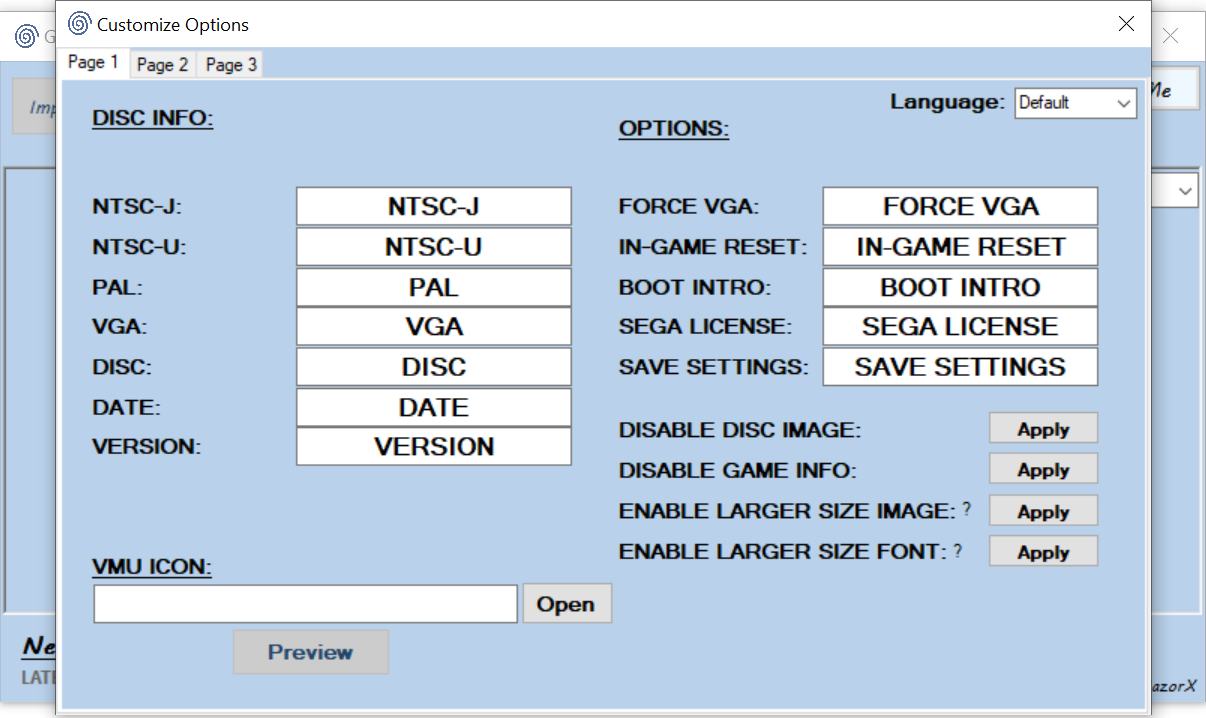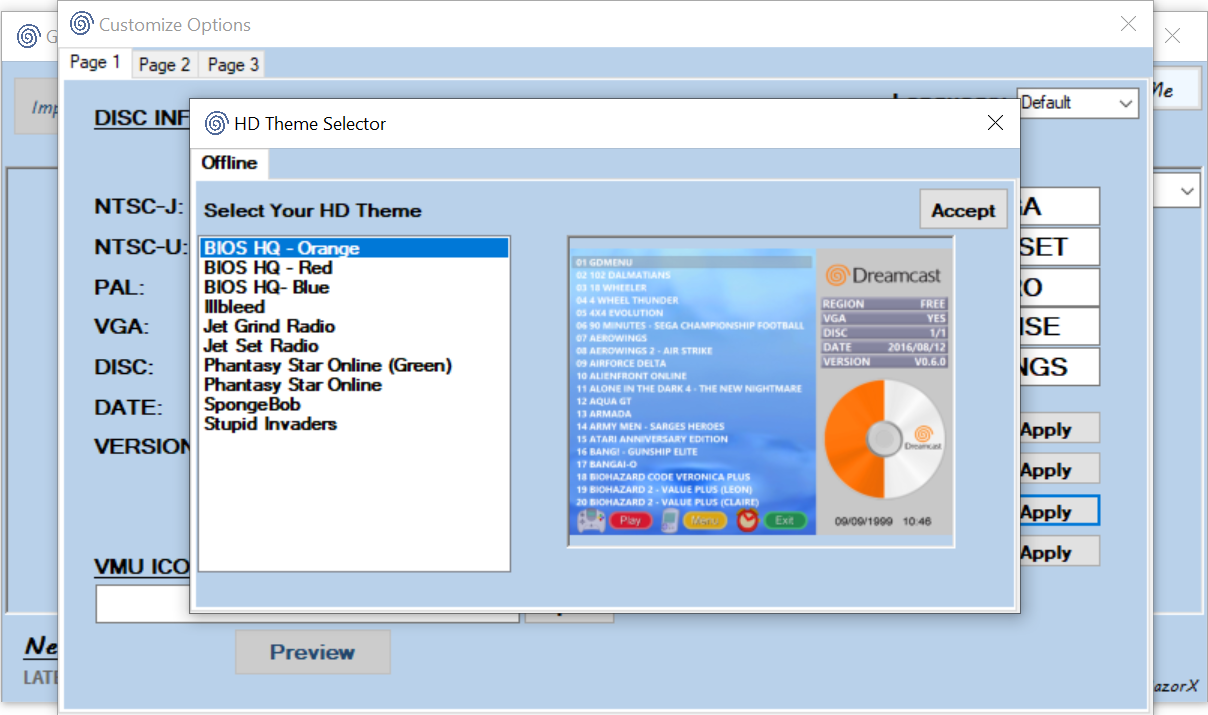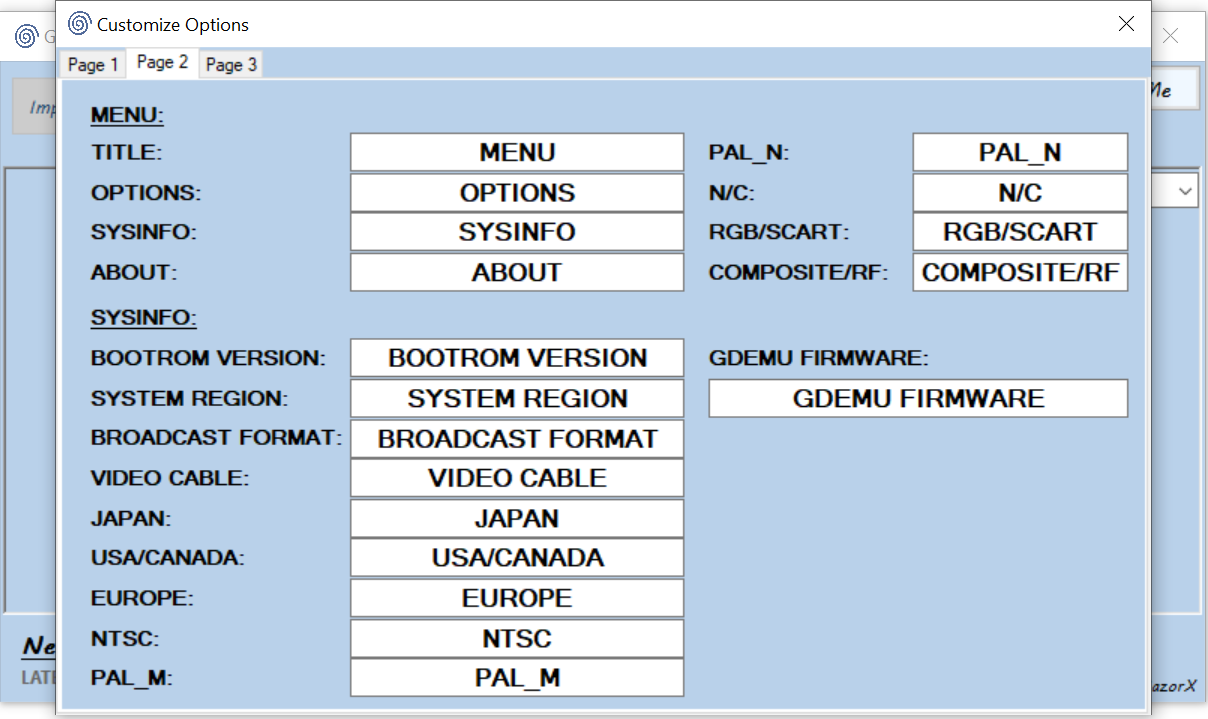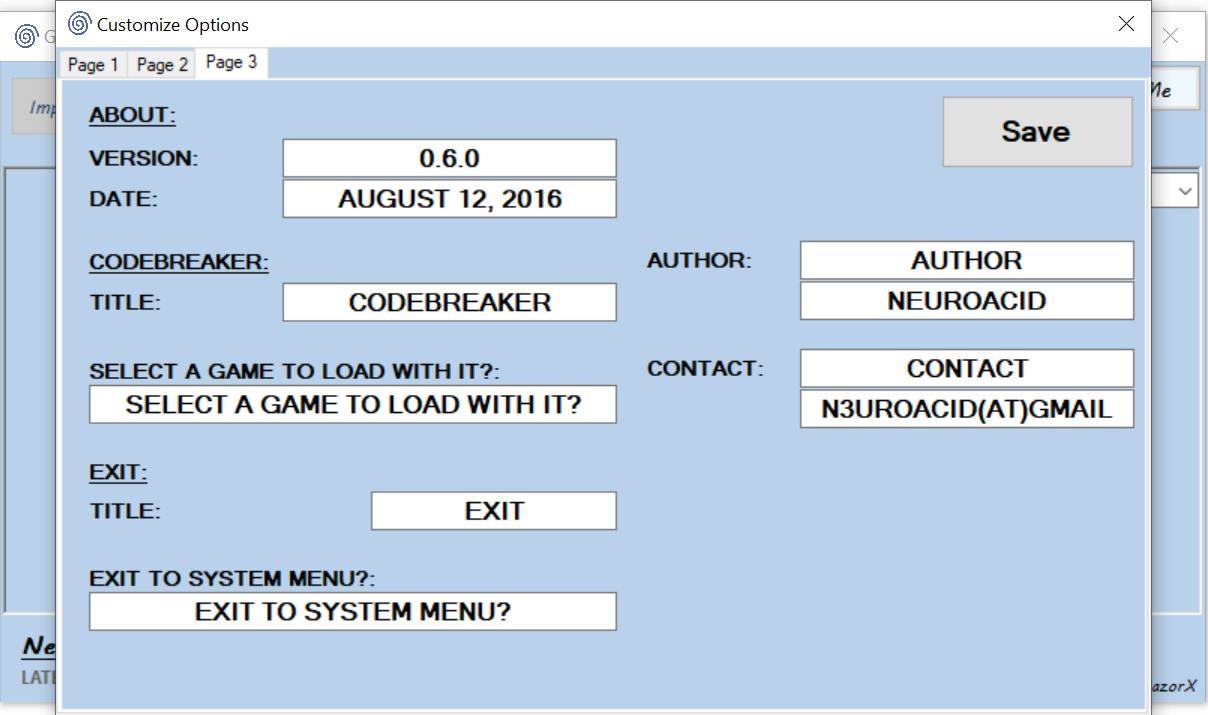 Console Preview: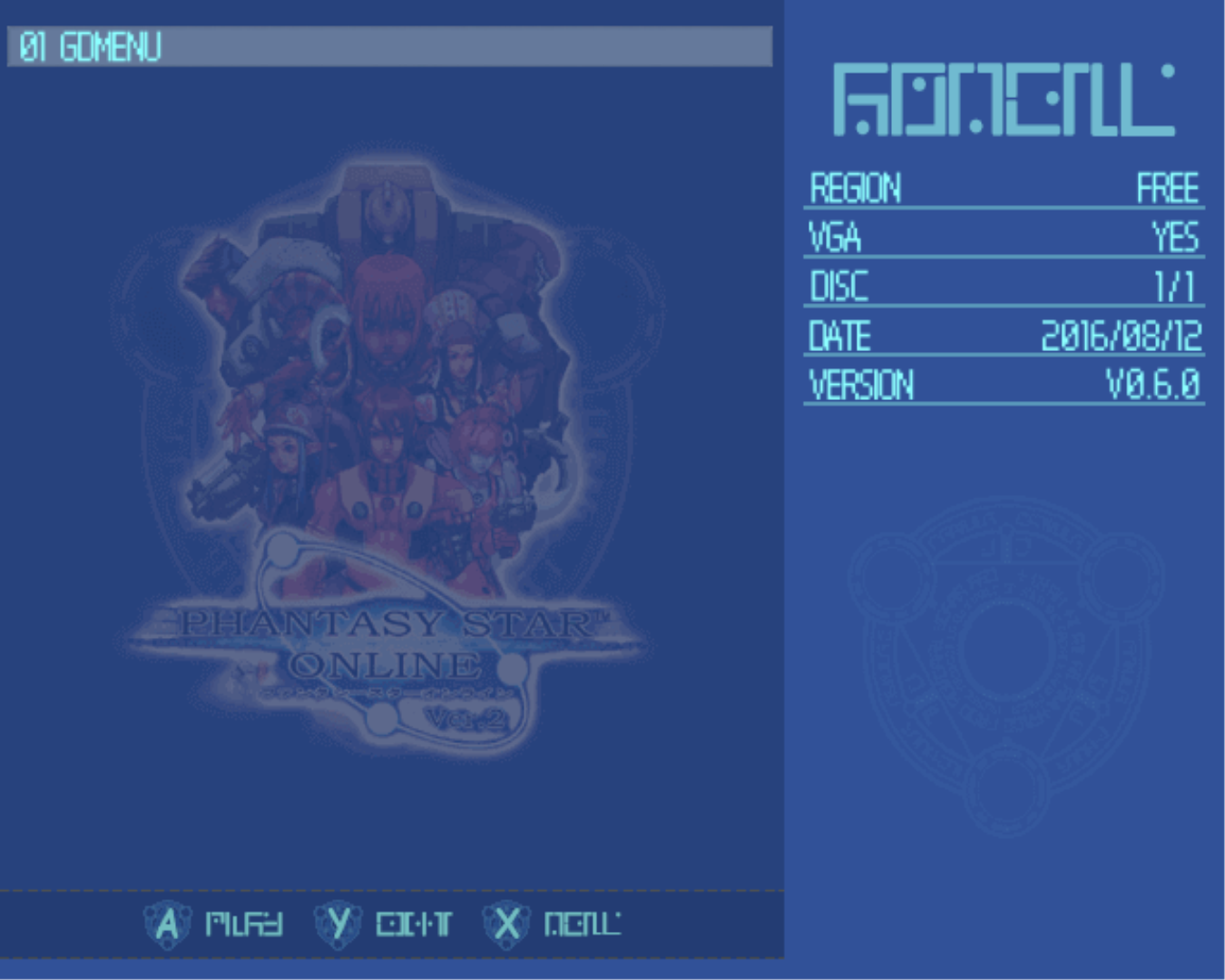 Example:
This is an example of the higher quality theme i made using the latest patch.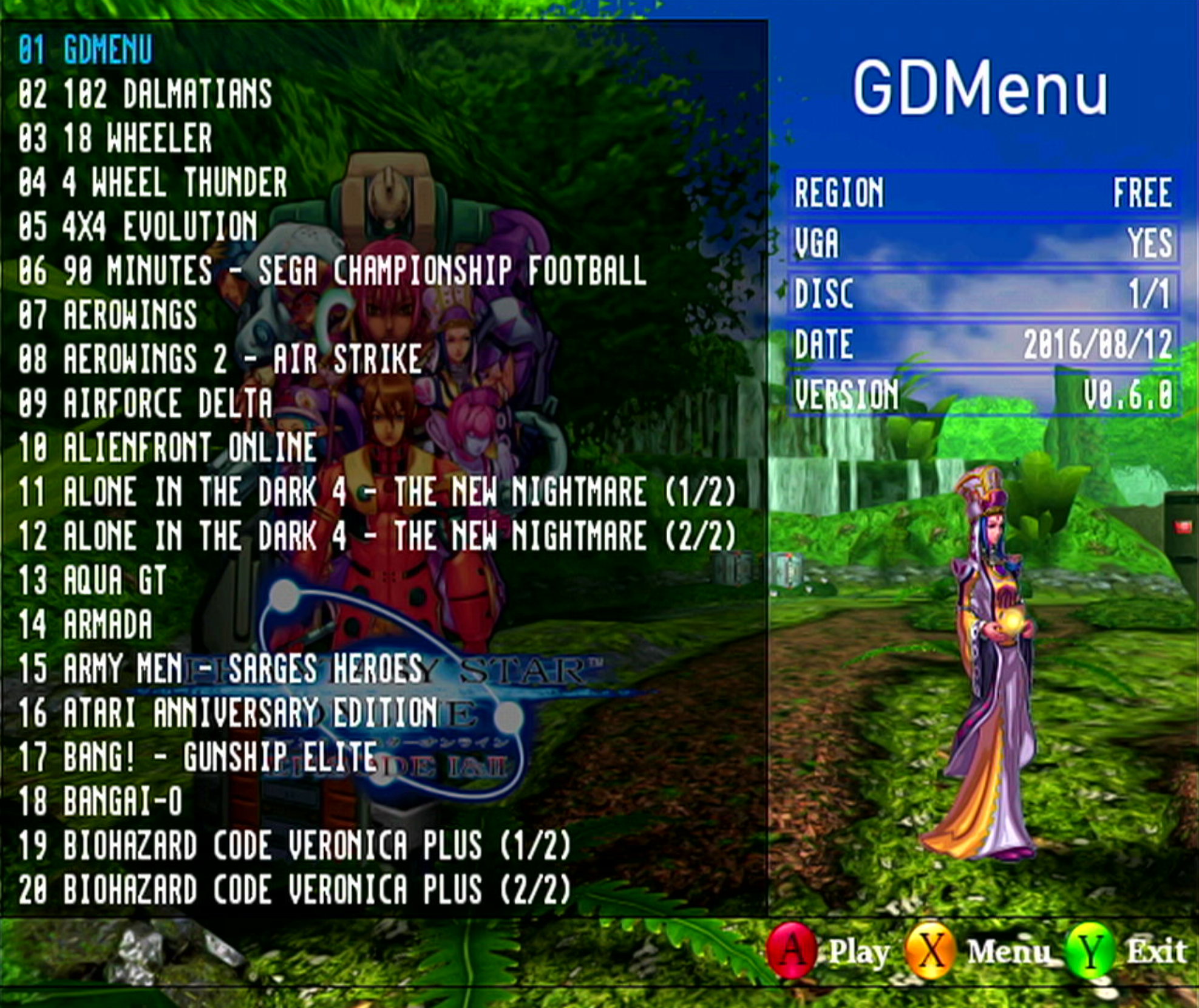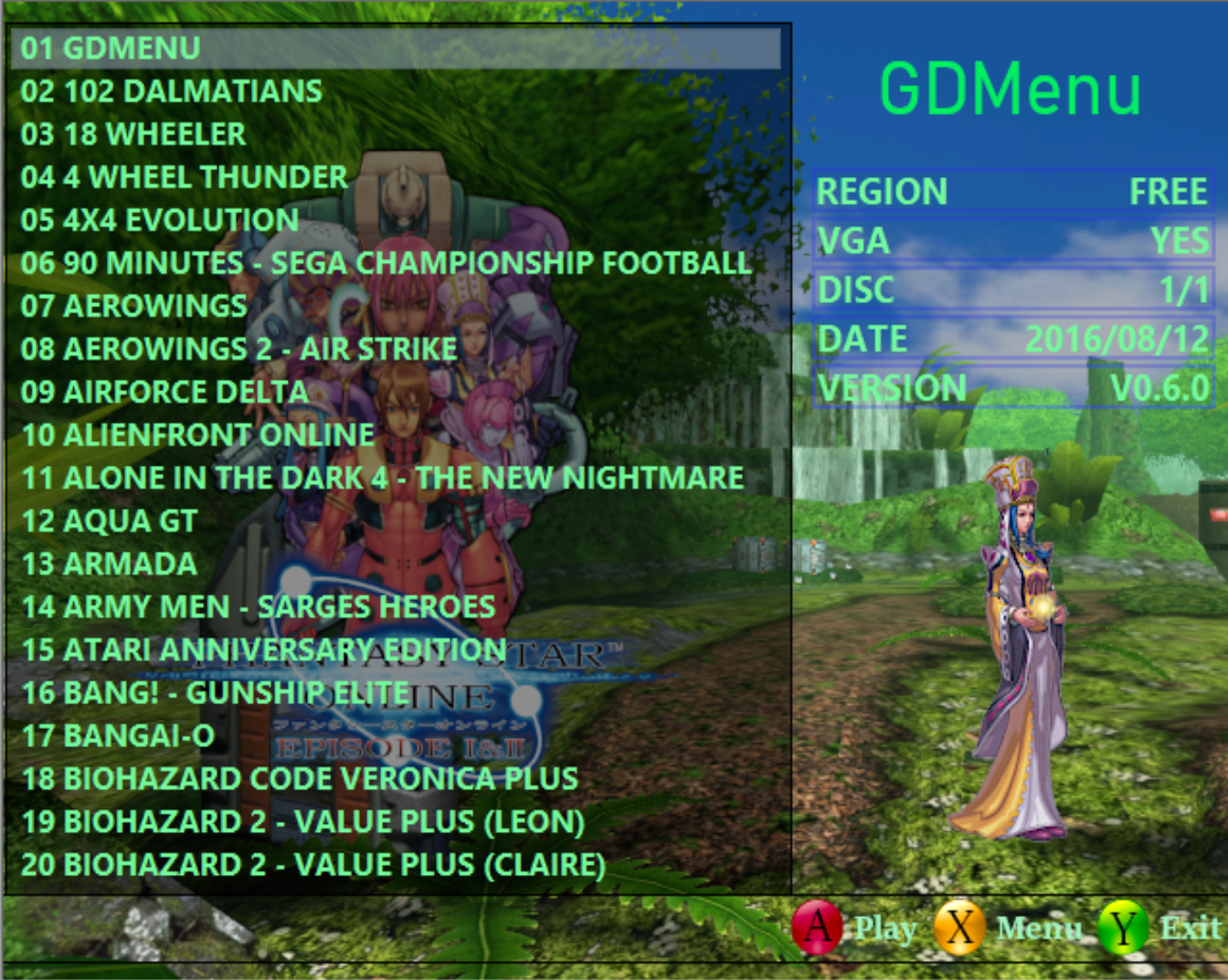 This app also contains a built-in readme for anyone who wants to know how to use this but if you have any questions just let me know and i will be happy to answer them.
Basic Guide:
1.
Choose a theme from the list on the right.
2.
Click import theme.
3.
Click save and save the .bin to the apps root directory (The name isn't important) and by default it will be named NEW-THEME.BIN.
4.
Click scramble.
5.
Now navigate to the 'GDEMU_SD 1.10' folder and launch the 'GDEMU_SD.exe' which is the GDEMU SD Card Maker 1.10 app.
6.
Insert your GDEMU sd card if you haven't already and select it on the GDEMU SD Card Maker 1.10 app and your games should appear, now simply click Save on the GDEMU SD Card Maker 1.10 app and yes to customize and then simply click Done and let it apply the changes to your sd card and the new theme should be applied and you can close both applications and eject your sd card and test it out in your dreamcast.
Enjoy.
Downloads:
GDMENU Theme Manager:
GDEMU Theme Manager v1.8e
Updates:
Update (05/10/2021)
- Made a small change to how theme previews are done to try to help speed up the previews for HD themes.
Update (16/09/2021)
- Updated my theme preview generator to allow you to show/hide the disc info since that is something you can disable in my theme manager.
Update (15/09/2021)
- Fixed an issue with HD themes no longer importing.
Update (14/09/2021)
- Added an RGB color wheel to the 'Font Colors' section so it's easier to pick the color you want.
Update (13/09/2021)
- Added the online HD themes to the main selection list so it's quicker and easier to apply one by simple doing what you'd normally do for a standard theme, Because of this i have removed the online section on the 'HD Theme Selector' however i have left the offline section so you can still use this to import your own HD theme.
I'm also using .Net Framework 4.8 instead of 4.7.2.
Update (09/09/2021)
#2
- Updated the theme manager app to show the preview of the hd theme you have selected as well as the filesize.
Update (09/09/2021)
- Updated my theme manager to be able to better preview the HD themes as well as download them from online so any theme i create or others create and send me i can add to the online section and they will simply appear on the app for you to download and use. (Clicking download will automatically apply that theme as well so you won't have to do that after)
Also updated my preview generator to version 0.6c and changed it to save the images as jpg, i have been messing around with it lately and that just seems like the best format to use overall given it is just a preview.
UPDATE (08/09/2021)
- Fixed an issue with my theme preview generator app which caused it to take longer to close, I also had an issue with some of the preview png files so i changed the resolution to 960p and format to bmp.
I also added an Illbleed HD theme i just made.
Updated (07/09/2021)
- Removed some of the editing options as they were breaking others, I also tweaked the sizes of some of the menus and moved a few things around.
Also added a green version of my hd pso theme a long with a green font color preset as well as a spongebob hd theme
Updated (04/09/2021)
- Added the ability to use any filesize font, Just put the font image in 'Assets\HD' and call it font_8x16.png then click Apply on the option to enable it under 'Advanced - Customize Options' and continue as normal.
I also updated my theme generator app, it's now more clear you can click the image to view a larger adjustable version.
I have also added a 'SEGA' VMU image under 'Assets\VMU' for you to use if you wish and i have also slightly updated my hd theme template and readme.
Updated (02/09/2021)
- Made some improvements to the ability to use HD themes, Now all you do is add your HD themes (as any name but still .png) in 'Assets\HD', Now just select the theme you want to apply and click Accept and you're good to go and just need to click Scramble and do the usual from there.
I have also included the HD pso theme i made and HD versions of my friend Riggles bios styled themes.
Updated (01/09/2021)
- Added support for disabling the PVR disc image preview and also the game info, I have also added support for you to use your own larger filesize texture.png so in order to do that you must put your texture.png in to the Assets folder and on the app just click 'Import Theme' with any theme selected then click 'Save' and under 'Advanced - Customize Options' click 'Enable Larger Size Image' then continue to click 'Scramble' as normal.
Now when you launch the included 'GDEMU_SD 1.10' and rebuild the menu and boot it up on the dreamcast you will see your higher quality theme.
I've also set it up so if there is an update you can now click on the 'New Update Available' text to have it take you to the download site.
Updated (30/08/2021)
- Added support for changing the VMU GDmenu text when on the GDMenu screen.
Old Updates:
Updated (07/01/2021) - Added more language options for you to alter on GDMenu but also had to disable altering REGION and ON as due to the way this is done the ON in REGION are the same one so by changing one you alter the other sadly.
I've also added the ability to use language text files for if you want to have your own custom one, Simply use the English.txt file provided in Assets/Languages as a template.
Updated (05/01/2021) #2 - Fixed issue with the Languages Options being too large.
Updated (05/01/2021) #1 - Added quite a lot of customizable options under the Advanced Options menu including a way to move various things around such as the position of the disc image preview.
Updated (31/12/2020) - Added a new app I made in with the latest release which allows you to create preview images of your own themes directly from the pc using nothing but the theme png file, I have also updated the previews on my server to ones made with the app and updated GDMenu Theme Manager to reflect these changes.
Updated (30/12/2020) - Overhauled the themes section so themes are now stored online which means new themes will just show up automatically, I've also cleaned up some of the files that aren't needed anymore and simplified the Theme template included.
Updated (26/12/2020) - Worked on improving the Font Colors more and added the ability to change how many games are listed per page.
Updated (23/12/2020) - Fixed issue where the font colors option wasn't working correctly.
Updated (22/12/2020) - Added a way to change various colors on GDMenu thanks to megavolt85 as well as improved the way the bin file is scrambled. I have also added two new themes made by ateam.
GDMenu Theme Preview Generator v1.0: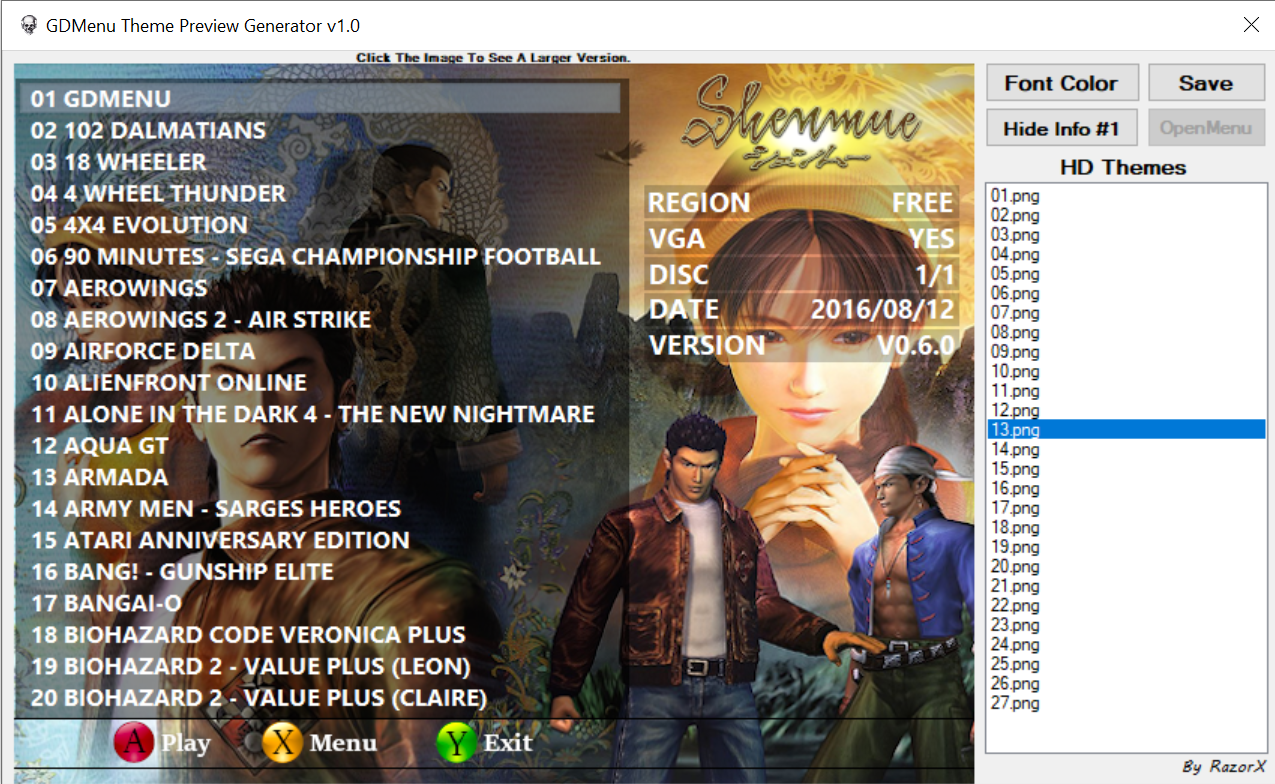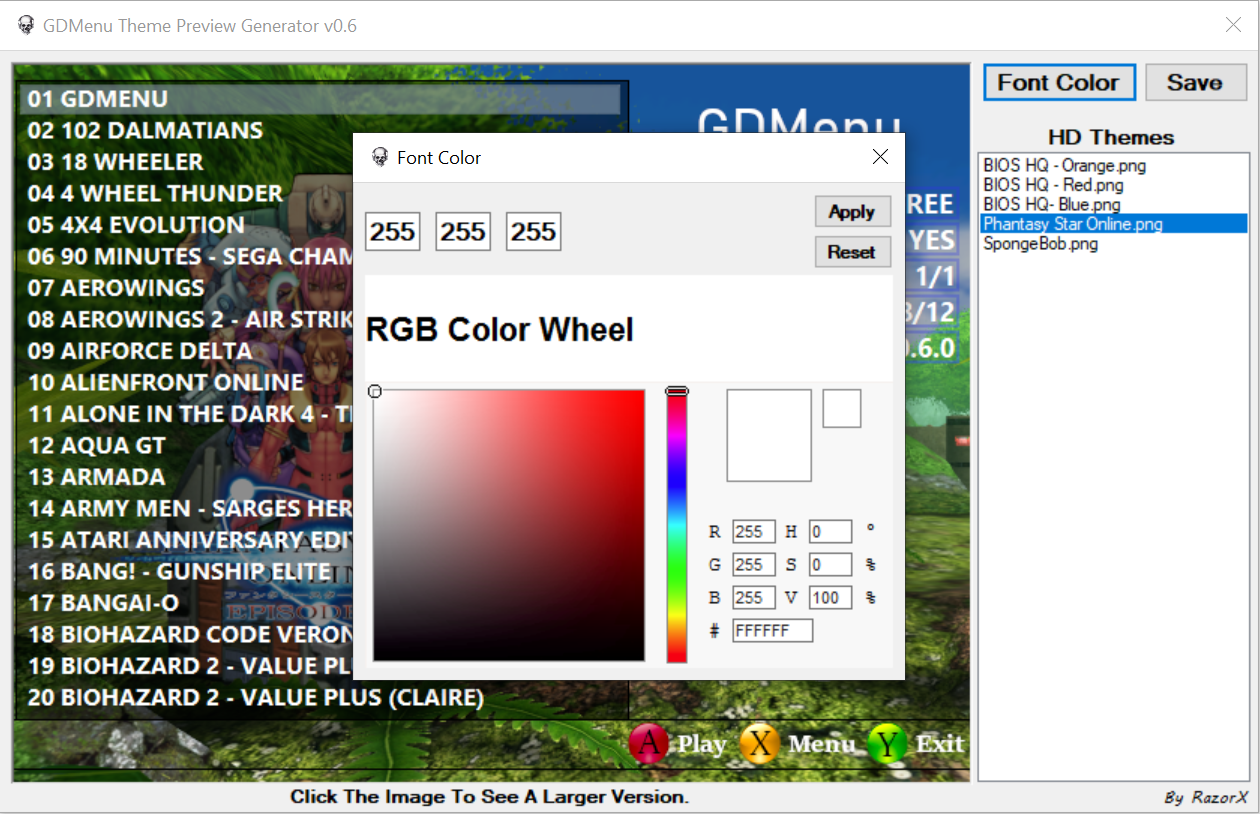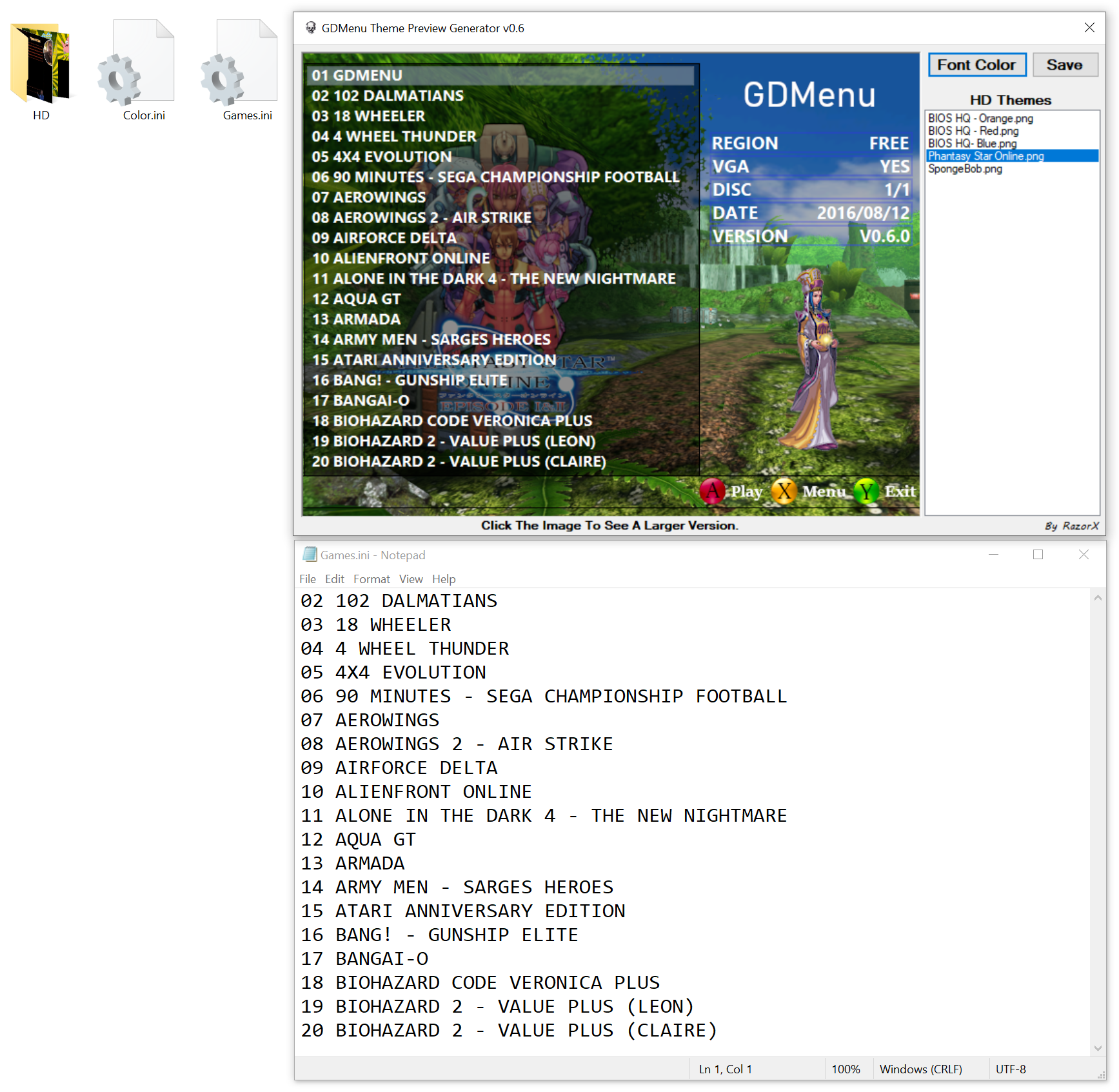 This application comes included with GDMenu Theme Manager and allows you to take a theme png you've created and instantly create a preview image for it without having to flash the theme to an sd card, stick it in the dreamcast and using a phone to take a screenshot or a capture card.
You can also click the preview to see a larger version which size can be manually adjusted or it can be maximized.
GDEMU Games List Generator:
(Separate Download)
GDEMU Games List Generator v1.3 Mini
GDEMU Games List Generator Preview: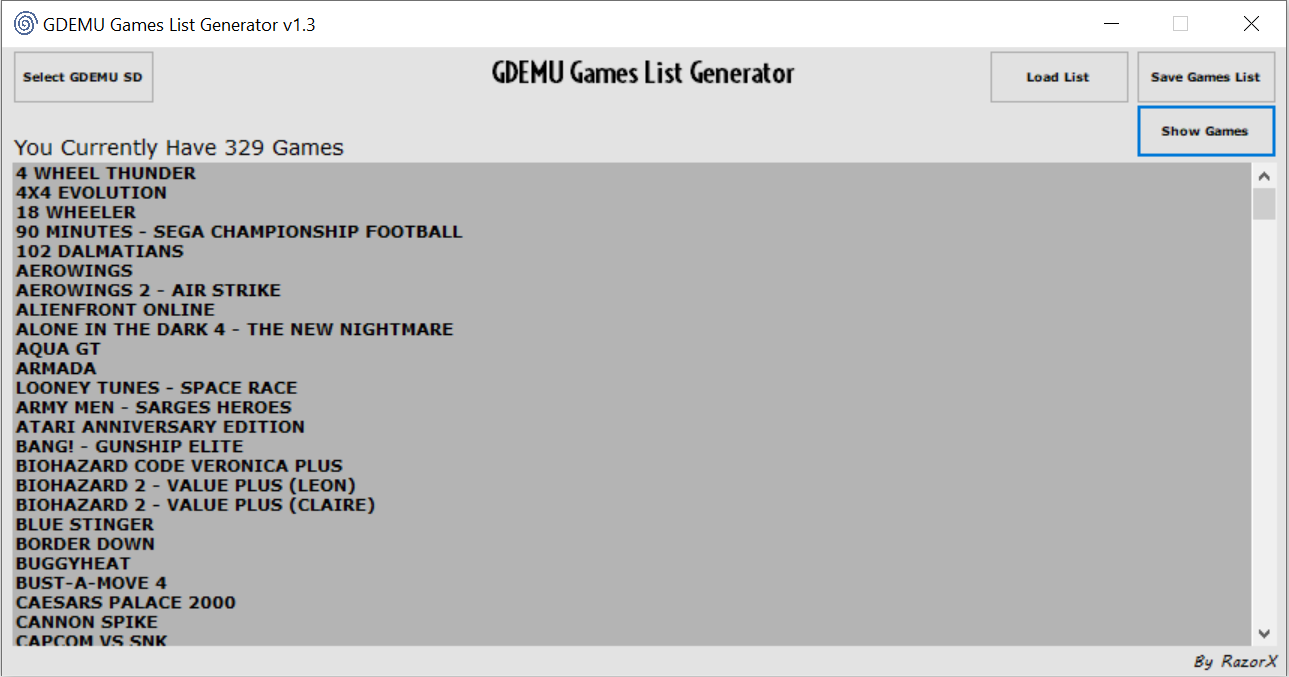 Notes:
To Use This Correctly Remove The Disc 1, Disc 2 etc From Your Game Names, It's Not Needed In The Game Titles As GDMenu Tells You The Disc Number.
Last edited: