So if you're on the discord you already know about this, but I'm trying to document the Saturn version of NBA Jam Tournament Edition so that we can edit it like people have done with the SNES and PSX versions. There are a lot of similarities between the PSX version and the Saturn version but a lot of differences as well, especially in file names.
I have already figured out a lot in a short amount of time, thanks mostly to Mattrizzle and eskayelle / Double Z's documentation of the Playstation version.
The major things left to sort out are getting the exact palette for the heads out. I tried saving the VDP2 CRAM and using CRAM2PAL and that spits out what *LOOKS* like the correct palette but its not after editing sprites.
I used this as a base:
then made some changes and there were really dark spots and stuff, so I just need to figure out why, or have someone smarter than me help.
Those brown dots are a dark blue in the head sprite data.
I used HUGE head mode to magnify the ugly:
These are the sprites from the data:
They are placeholders as I and C Nguyen cobbled together some money to pay a real artist to make protato sprites, they do however work in game as expected.
He doesn't look too terrible in regular head mode:
The other issue is sorting out the audio, both replacing what is in game and figuring out how the game assigns the audio clips to specific players. I played a few games and never heard Tim Kitzrow say a single player's name.
Replacing the portraits involves decompressing the RNC'ed files, editing, re-compressing them, then I pasted the data back in with a hex editor then padded the difference with zeroes. It seems to have worked just fine.
Editing the features screen and pretty much all the other text has been figured out as well.
This is the work in progress Google Doc: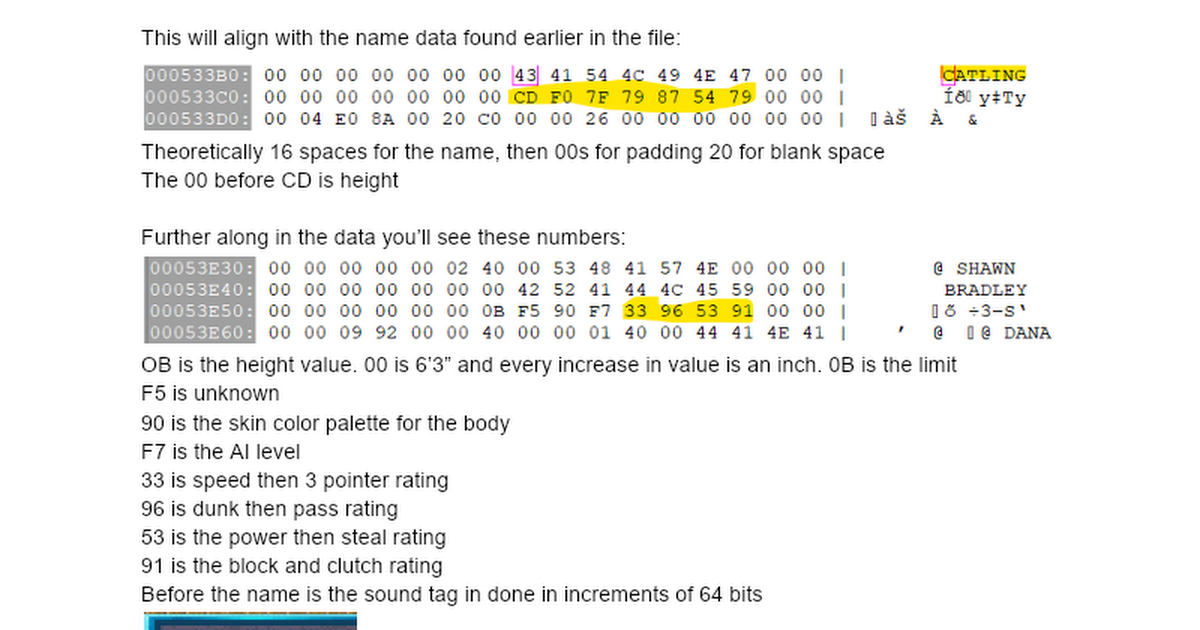 File breakdown: 0 Contains text for team names, player names, hidden character names, initials and dates and a lot of other data Starting at 0x0567f3 is the secret character entry data First initial 00 00 00 second initial 00 00 00 3rd initial 00 00 00 Then the day then the month CAT January ...

docs.google.com